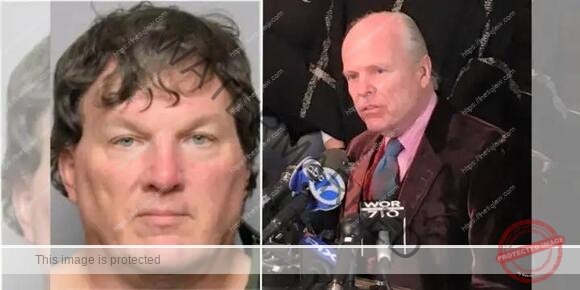 Accused Gilgo Beach serial killer Rex Heuermann (left) and attorney John Ray (right). Photo Credit: Suffolk County Sheriff's Office/Facebook user John Ray Accused Gilgo Beach serial killer Rex Heuermann (left) and attorney John Ray (right). Photo Credit: Suffolk County Sheriff's Office/Facebook user John Ray
John Ray, a Miller Place attorney representing relatives of some of the victims, will hold a symposium at Molloy University in Rockville Centre on Friday, Dec. 8, according to a GoFundMe.
During the event, Ray will "reveal and share facts" about the Gilgo Beach murder case and other "related serious crimes," said campaign creators Delores Smith and Frances Nicotra.
Earlier Report: Gilgo Beach Murders: New 20/20 Episode Spotlights 'Biggest True Crime Story Of Summer'
The pair created the GoFundMe to raise money for the Magdalene Dismas Society, a nonprofit organization founded by Ray to combat sex trafficking.
Funds raised will go toward hosting the December symposium, they said.
"Mr. Ray tirelessly and selflessly helps so many people in this fight for truth and justice," they said. "He now needs our help. Please donate whatever you can."
Ray ruffled the feathers of law enforcement when he held a press conference in October 2023 claiming that new evidence had been uncovered in the case.
Standing alongside Suffolk County Police Commissioner Rodney Harrison, he claimed the new evidence linked suspect Rex Heuermann to two other women whose remains were found: Karen Vergate and Shannan Gilbert.
Two witnesses have come forward and two have signed affidavits, Ray told reporters.
The press conference prompted a scathing public response from Suffolk County District Attorney Raymond Tierney, who blasted Ray for not giving prosecutors advance notice.
"We will continue to investigate this case through the Grand Jury process and not through press conferences. No private attorneys are or have ever been members or agents of the Task Force," Tierney said.

"Any citizen who believes that they have relevant evidence regarding the Gilgo Beach investigation should report it to the investigative agencies that comprise the Task Force…" he continued.

"Any attorneys representing victims or their families, by definition, have a conflict of interest and should not be a part of the investigation.

"Accordingly, private attorneys are not part of the Task Force and potential witnesses should not be reaching out to a private attorney with an interest in the outcome of the case."
What began as a search for Gilbert, a 23-year-old Craigslist escort who lived in Jersey City, led to the discovery of the skeletal remains of four victims along a sandy stretch of Long Island highway in 2010.
Overall, police had the murders of nine young women, a man, and a toddler on their hands, as well as questions of whether the same predator was or wasn't responsible. The cold-case killings made headlines and became the focus of a Netflix film, "Lost Girls," in 2020.
Although authorities haven't publicly connected Heuermann to Gilbert's death, it was the search for her that triggered a chain reaction of events that ultimately led to Heuermann's arrest in July 2023.
He is charged with the murders of Melissa Barthelemy, Megan Waterman, and Amber Lynn Costello. He is also the primary suspect in the disappearance and killing of Maureen Brainard-Barnes.
Heuermann has pleaded not guilty to all charges.